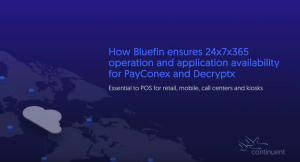 Join MC Brown, VP Products at Continuent, on August 8th for our new webinar on high availability and disaster recovery for MySQL, MariaDB and Percona Server with Tungsten Clustering. Learn how Bluefin Payment Systems provides 24/7/365 operation and application availability for their PayConex payment gateway and Decryptx decryption-as-a-service, essential for Point-Of-Sale solutions in retail, mobile, call centers and kiosks.
We'll discuss why Bluefin uses Tungsten Clustering, and how Bluefin runs two co-located data centers with multimaster replication between each cluster in each data center, with full fail-over within the cluster and between clusters, handling 350 million records each month.
Tune in Wednesday, August 8th @ 10 am PT/ pm ET. Save your spot at https://bit.ly/2LOaS0M .