So, typically, a Percona Live (or MySQL User) Conference blog would start off with some mention of the fact that it's great to be meeting up again in Santa Clara, California, the birthplace of the MySQL User Conference, and a continuous fixture on the yearly MySQL community agenda.

But no, not this time!

On this occasion, the Percona Live Conference blog starts off by pointing out that for the first time since its inception (as far as I can recollect), the MySQL User Conference, i.e. Percona Live Conference (in North America) doesn't take place in Santa Clara, but rather in Austin, Texas.

Never having been to Texas before myself, I'm looking forward to that innovation, discovering the new surroundings and seeing whether that changes anything or not to the familiar "feel" of a Percona Live / MySQL User Conference.

By the way, there's still time to register for the conference if you haven't done so yet – and you can get 25% off the ticket price by using our sponsor code: CONTINUENT25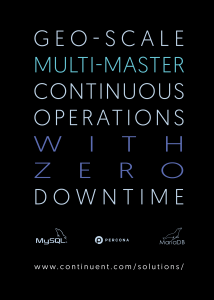 Of course, the conference has changed over the years now: it's no longer just a MySQL User Conference, but really an open source database user conference, which aims its focus also on MongoDB, PostgreSQL, MariaDB and related technologies to name but a few.

For our part, we've been sponsors of the conference for many years and are delighted to be sponsoring this year's conference as Diamond Sponsors.

Do come pay us a visit at our booth in the exhibition hall, where we look forward to the opportunity to discuss all things to do with how to build geo-distributed, multi-master MySQL and MariaDB on-premises, hybrid-cloud, and multi-cloud database environments using Tungsten Clustering – and more.

We're known for our best-in-breed Continuous Operations, High Availability and Disaster Recovery solutions for MySQL, MariaDB & Percona Server and will be onsite to show participants what that looks like.
We'll also be participating in the conference with a number of talks, as follows:
Eero, our CEO, will also be participating in the Keynote Panel alongside fellow panelists from Alibaba, Veritas and VividCortex, who are some of the sponsors of this year's conference.
And one of our valued customers, Riot Games, is presenting at the conference too:
On that note: thanks to all of the sponsors who are contributing to help make the conference a great experience year on year for all participants; and thanks of course to Percona for taking on the huge job of organising these conferences in the first place.

With that said, I look forward to seeing everyone at the conference; familiar and new faces alike, and wish us all a great Percona Live 2019 in Austin!

See you there!