So, typically, a Percona Live (or MySQL User) Conference blog would start off with some mention of the fact that it's great to be meeting up again in Santa Clara, California, the birthplace of the MySQL User Conference, and a continuous fixture on the yearly MySQL community agenda.
But no, not this time!
On this occasion, the Percona Live Conference blog starts off by pointing out that for the first time since its inception (as far as I can recollect), the MySQL User Conference, i.e. Percona Live Conference (in North America) doesn't take place in Santa Clara, but rather in Austin, Texas.
Never having been to Texas before myself, I'm looking forward to that innovation, discovering the new surroundings and seeing whether that changes anything or not to the familiar "feel" of a Percona Live / MySQL User Conference.
By the way, there's still time to register for the conference if you haven't done so yet - and you can get 25% off the ticket price by using our sponsor code: CONTINUENT25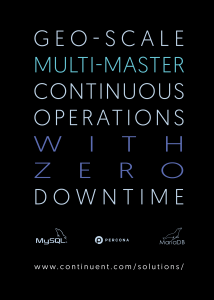 Of course, the conference has changed over the years now: it's no longer just a MySQL User Conference, but really an open source database user conference, which aims its focus also on MongoDB, PostgreSQL, MariaDB and related technologies to name but a few.
For our part, we've been sponsors of the conference for many years and are delighted to be sponsoring this year's conference as Diamond Sponsors.
Do come pay us a visit at our booth in the exhibition hall, where we look forward to the opportunity to discuss all things to do with how to build geo-distributed, multi-master MySQL and MariaDB on-premises, hybrid-cloud, and multi-cloud database environments using Tungsten Clustering - and more.
We're known for our best-in-breed Continuous Operations, High Availability and Disaster Recovery solutions for MySQL, MariaDB & Percona Server and will be onsite to show participants what that looks like.
We'll also be participating in the conference with a number of talks, as follows:
Matthew Lang, Director Professional Services Americas, Continuent
Thursday, 2:55 PM - 3:45 PM
In this talk, we'll explore how to build and deploy a geo-scale MySQL / MariaDB / Percona cloud back-end by covering these three key topics:
Overview of Amazon Aurora cross region
Common challenges when using Amazon Aurora
How can multi-region MySQL / MariaDB / Percona deployments be improved?
As part of the discussion, we'll be exploring the following design criteria:
Geographically distributed, low-latency data with a single consolidated view
Fast local response times for read traffic
Local rapid-failover, automated high availability
Ability to deploy masters in multiple regions
No changes to application code
Complex schema changes while keeping applications available
Avoiding provider lock in
Matthew Lang, Director Professional Services Americas, Continuent
Thursday, 2:00 PM - 2:50 PM
Amazon Redshift has been providing scalable, quick-to-access analytics platforms for many years, but the question remains: how do you get the data from your existing datastore into Redshift for processing?
Traditional ETL methods can't keep up with large volumes of data and can require manual reprocessing when an error occurs. Running queries by record change date put a load on your MySQL server and pollutes your cache.
Wouldn't it be great if you could replicate your data in real-time, filter on the tables and schemas you need, all without putting any extra load on your MySQL server? Wouldn't it also be great if schema changes just flowed through from MySQL to RedShift, without intervention on your part?
Join us as we explain how you can have it all: real-time, secure replication from MySQL/MariaDB/RDS MySQL/Aurora to RedShift, with schema changes replicated and no replaying of jobs needed when errors occur.
Eero, our CEO, will also be participating in the Keynote Panel alongside fellow panelists from Alibaba, Veritas and VividCortex, who are some of the sponsors of this year's conference.
Eero Teerikorpi, Founder and CEO, Continuent
Thursday, 9:35 AM - 9:50 AM
The color of open source money is a curious case…
There are those organizations that make money from open source technologies, with or without making contributions back to the software itself. There also are commercial open source software vendors, who do add value to the underlying open source technology by enhancing the solution and providing support for it. And then there are commercial software vendors who extend the capability of the open source solution with proprietary solutions. And, last but not least, some cloud providers' business models involve building SaaS solutions based on free open source technology.
Some of the above business models are deemed to be more acceptable by the open source community than others.
Now, one would think that the color of the money should be the same, but it is not. Especially the cloud companies may be seen as blood-sucking parasites that abuse the eco-system, particularly when not contributing back.
Yet they seem to be making the most money from it. And while some cloud providers do feed part of that money back to open source consulting companies to enhance and support their solutions, they are not necessarily sharing those enhancements with the community. So does that make them more acceptable?
The color of open source money is much discussed these days, and with this talk, I'm looking to examine some of the aspects of it a little closer with you, and offer my perspective on the different shades of it and acceptable balance on commercial efforts to justify the investments needed for the sustainability of the project.
And one of our valued customers, Riot Games, is presenting at the conference too:
Tyler Turk, Senior Infrastructure Engineer, Riot Games
Wednesday, 5:40 PM - 6:05 PM
The Player Accounts team at Riot Games needed to consolidate the player account infrastructure and provide a single, global accounts system for the League of Legends player base. To do this, they migrated hundreds of millions of player accounts into a consolidated, globally replicated composite database cluster in AWS. This provided higher fault tolerance and lower latency access to account data.
In this talk, we discuss this effort to migrate eight disparate database clusters into AWS as a single composite MySQL database cluster replicated in four different AWS regions, provisioned with terraform, and managed and operated by Ansible.
This talk will briefly overview the evolution of the player accounts services from legacy isolated datacenter deployments to a globally replicated database cluster fronted by our account services and outline some of the growing pains and experiences that got us to where we are today.
On that note: thanks to all of the sponsors who are contributing to help make the conference a great experience year on year for all participants; and thanks of course to Percona for taking on the huge job of organising these conferences in the first place.
With that said, I look forward to seeing everyone at the conference; familiar and new faces alike, and wish us all a great Percona Live 2019 in Austin!
See you there!