How to serve global IoT customers in the cloud - and secure SaaS revenue using Tungsten Clustering on cloud-based database services
SaaS providers typically rely on providing a quality service across multiple locations, with the best application and database availability. They tend to be growth-oriented and need to ensure that their business will always be available without having to worry about how their databases will achieve continuous operations. Our customer for this use case is a global SaaS provider with an open data exchange platform for the Internet of Things (IoT) that has customers all over the globe. This use case looks at how our customer migrated from a single region Amazon RDS deployment to a truly global, geo-distributed multi-master Tungsten Clustering database solution – a better, more scalable solution at a lower total cost. And how they did so without having to change their application, all the while regaining control of their data and increasing the availability of their local databases.
What is the Challenge?
Our customer needed true MySQL multi-master clustering in multiple, geographically-distributed locations, as their IoT devices are deployed worldwide. At the same time, they were proactively planning for a massive increase in database load and, based on previous experience, they knew that it would require additional sharding in AWS RDS.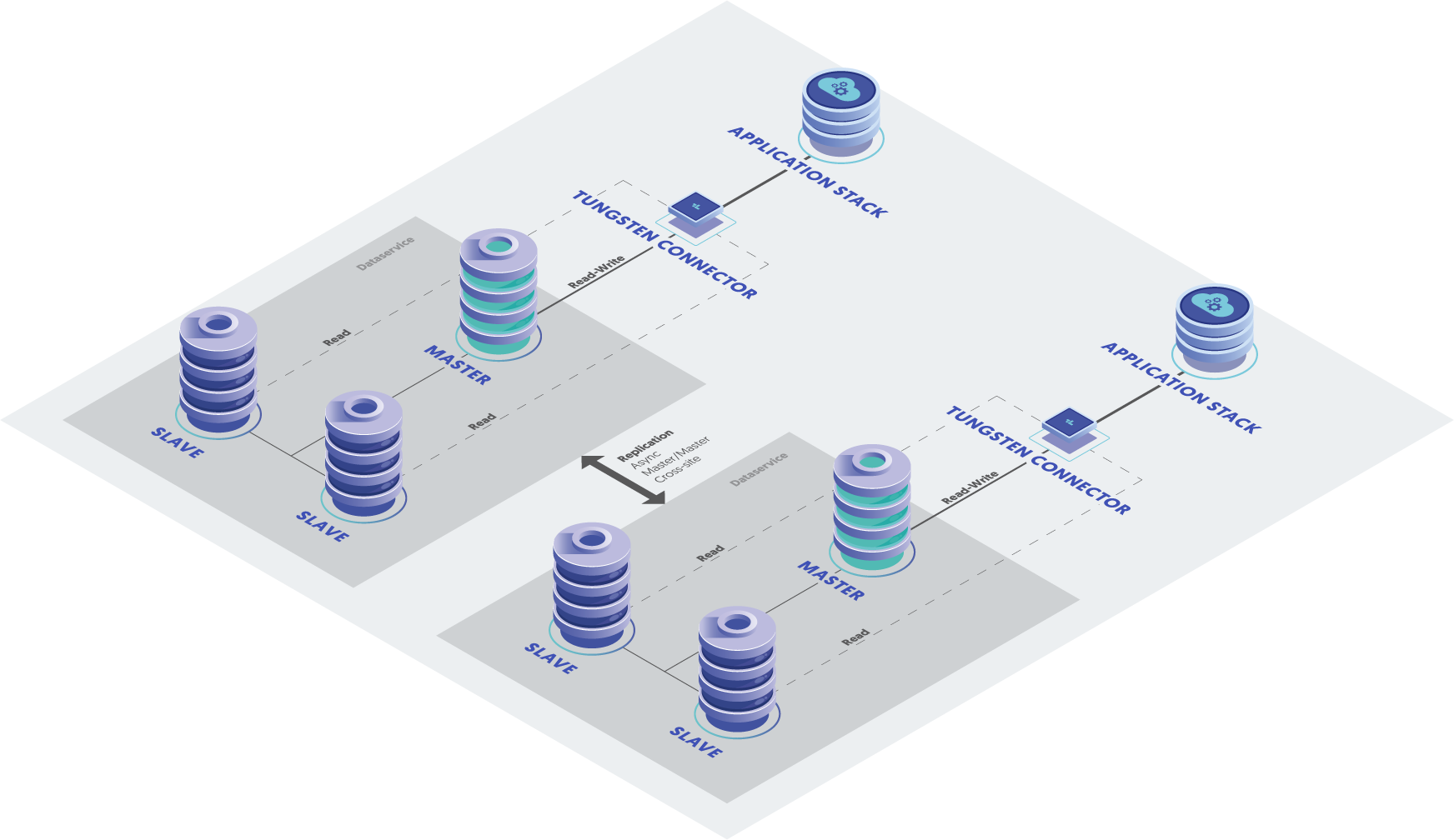 What is the Solution?
Continuent replaced an AWS RDS/MySQL solution with Tungsten Cluster CMM composite multi-master MySQL solution to offer a geo-distributed MySQL back-end for our customer's IoT services.  The current deployment is two (2) 3-node clusters spread over two (2) different AWS regions, typically with 1 node per AZ, with the clusters in an Active/Active relationship. With the Tungsten Clustering solution, our customer was also able to combine databases, thus simplifying their overall database deployment. In more detail, the Tungsten solution includes:
Support for multiple regions for local performance with clustering
Cross-site replication between regions
Database consolidation
Single management layer
Database infrastructure completely hidden from application
Significant business uptime for applications
What are the Benefits?
Geo-scale, Availability, Disaster Recovery
Multi-region
Cross-region replication & failover
Consistent performance
Scalability
Automated failover & recovery

Tungsten Clustering allows enterprises running business-critical MySQL database applications to cost-effectively achieve continuous operations with commercial-grade high availability (HA), geographically redundant disaster recovery (DR) and global scaling. To find out more, visit our Tungsten Clustering product page.