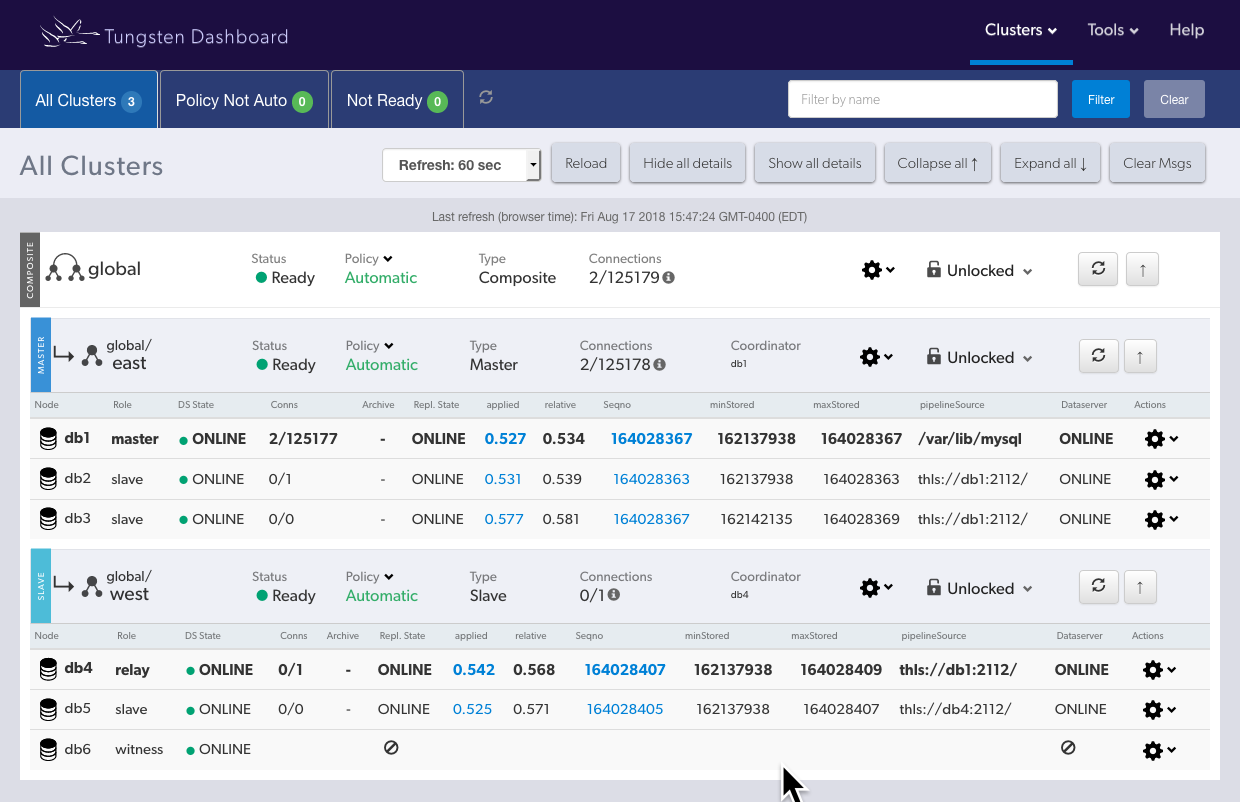 Click to enlarge
Managing a single cluster takes time and attention, and handling multiple clusters spread out over many sites is even more demanding.
A Better View of the World
Tungsten Clustering offers a graphical administration tool called the Tungsten Dashboard™ to help with your management burden. You are able to view, monitor and maintain all of your clusters all in one place.
The Tungsten Dashboard provides both read-only GUI-based monitoring views as well as the ability to execute most of the commonly-used commands available inside the cctrl CLI tool.
This makes typical cluster administration tasks MUCH easier, since no access to the command-line is needed. Better yet, there is no limit to the number of clusters managed.
The Nitty-Gritty
Tungsten Dashboard is currently offered free-of-charge to active customers running a compatible version of Tungsten Clustering.
Tungsten Dashboard will work with Tungsten Clustering v5.3.0 and above or v6.0.1 and above only.
This architecture diagram displays how things would look when using a 6-node Composite cluster named global, with two member clusters, named east and west.
The Tungsten Dashboard is usually installed on a standalone web server with HA Proxy installed. HA Proxy routes API requests to the various database nodes running the manager API listener on port 8090.
There is one frontend per cluster, and each backend contains all db nodes for that cluster.
For more details, please visit the docs page at http://docs.continuent.com/tungsten-dashboard-1.0/index.html
In summary, use the Tungsten Dashboard to easily administer all your Tungsten clusters!
Tungsten Clustering is the most flexible, performant global database layer available today - use it underlying your SaaS offering as a strong base upon which to grow your worldwide business!
Click here for more online information on Tungsten Clustering solutions
Want to learn more or run a POC? Contact us.