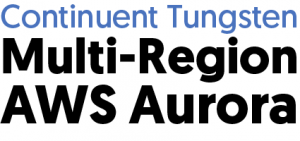 We're pleased to announce our latest live webinar "Multi-Region AWS Aurora vs Continuent Tungsten for MySQL & MariaDB", which will take place on Thursday, April 18th, 2019.
Our colleagues Matt Lang and Eric M. Stone will walk you through a comparison of building a global, multi-region MySQL / MariaDB / Percona cloud back-end using AWS Aurora versus Continuent Tungsten.
If you'd like to find out how multi region AWS Aurora deployments can be improved – then this webinar is for you!
See the registration and agenda details below – we look forward to "seeing" you there!
Date & Time:
Thursday, April 18th at 10am PST / 1pm EST / 4pm BST / 5pm CEST
Registration: follow this link to register
Agenda:
We will explore how to deploy a geo-scale MySQL / MariaDB / Percona cloud back-end with the following design criteria:
Geographically distributed, low-latency data with a single consolidated view

Fast local response times for read traffic

Local rapid-failover, automated high availability

Ability to deploy masters in multiple regions

No changes to application

code

Complex schema changes while keeping applications available

Avoiding provider lock in
Speakers:
Matthew Lang
Director of Professional Services – Americas at Continuent, has over 25 years of experience in database administration, database programming, and system architecture, including the creation of a database replication product that is still in use today. He has designed highly available, scalable systems that have allowed startups to quickly become enterprise organizations, utilizing a variety of technologies including open source projects, virtualization and cloud.
Eric M. Stone
COO at Continuent, is a veteran of fast-paced, large-scale enterprise environments with 35 years of Information Technology experience. With a focus on HA/DR, from building data centers and trading floors to world-wide deployments, Eric has architected, coded, deployed and administered systems for a wide variety of disparate customers, from Fortune 500 financial institutions to SMB's.