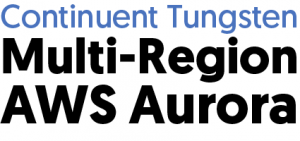 We're pleased to share our webinar Multi-Region AWS Aurora vs Continuent Tungsten for MySQL & MariaDB, recorded live on Thursday, April 18th, 2019.
Our colleague Matt Lang walks you through a comparison of building a global, multi-region MySQL / MariaDB / Percona cloud back-end using AWS Aurora versus Continuent Tungsten.
If you'd like to find out how multi-region AWS Aurora deployments can be improved - then this webinar is for you!
We hope you enjoy it!
Agenda
Explore how to deploy a geo-scale MySQL / MariaDB / Percona cloud back-end with the following design criteria:
Geographically distributed, low-latency data with a single consolidated view
Fast local response times for read traffic
Local rapid-failover, automated high availability
Ability to deploy masters in multiple regions
No changes to application code
Complex schema changes while keeping applications available
Avoiding provider lock in
Speaker
Matthew Lang, Director of Professional Services – Americas
Matt has over 25 years of experience in database administration, database programming, and system architecture, including the creation of a database replication product that is still in use today. He has designed highly available, scalable systems that have allowed startups to quickly become enterprise organizations, utilizing a variety of technologies including open source projects, virtualization and cloud.