Continuent is pleased to announce a brand new product, Tungsten Dashboard, which provides web-based UI to our Tungsten Clustering product.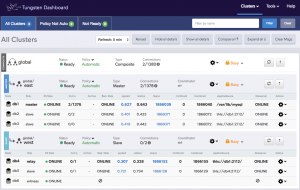 The UI provides full monitoring and control over your Tungsten Cluster environments, including:
Full monitoring information on the status and progress of replication and the status of the cluster
Monitor multiple clusters through a single page
Perform switches and failovers
Shun hosts
Recover failed hosts
The overall functionality is therefore equivalent to the command-line functionality offered by our existing cctrl tool.
Currently, Tungsten Dashboard is compatible with Tungsten Clustering 5.3.x; support for Tungsten Clustering 6.0 will be provided in a future release.
You can read the documentation for Tungsten Dashboard 1.0
If you are an existing customer and would like to use the new Tungsten Dashboard, please get in touch using the usual Support channels for assistance. You may download the Tungsten Dashboard via our standard Download portal at https://www.continuent.com/downloads/.
New customers who would like to use the UI and the Tungsten Clustering product for their MySQL deployments, please contact us.