Tungsten Clustering vs. Alternative MySQL Clustering Solutions - in the Cloud, Hybrid-Cloud, On-Prem
Why do Continuent customers say year after year that Tungsten Clustering is a better and more cost-effective MySQL HA/DR/Geo-Scale clustering and replication technology compared to alternatives - such as Amazon Aurora for MySQL, Galera Cluster and host of others?
We have put together a comprehensive comparison of MySQL clustering alternatives so you can learn about the pros and cons and make an informed decision about what's best for your needs and environment!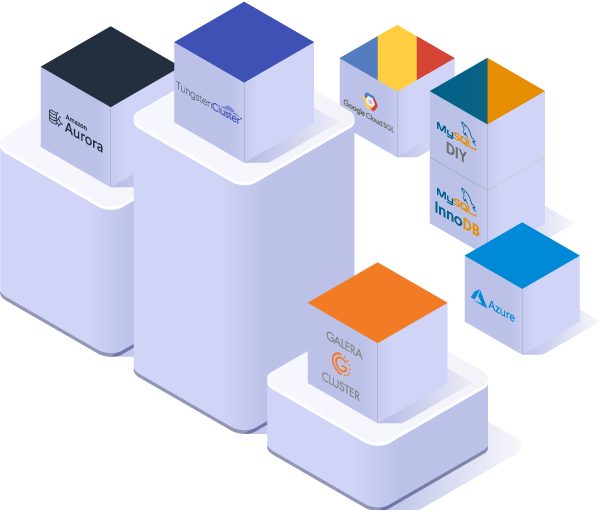 In this 'High Noon' competitive comparison series we have each solution covered on its own web page, blog and webinar.  We will start with Amazon Aurora, then challenge Galera Cluster the following week, and the rest during the next few weeks.
Unbiased Comparisons?
Hardly completely unbiased - but, to the best of our knowledge, yes. There is no need to hype Continuent solutions - our near 100% customer satisfaction speaks for itself.
Our goal is to lay it out as we learned from first-hand experience, cost-effectively safeguarding business-critical applications and billions of dollars in annual revenue since 2004. Also, as a commercial supporter of the open source ecosystem, we aim to be a resource so everyone may get the best out of native MySQL, MariaDB and Percona MySQL.
So, if you find anything objectionable in our comparisons, please send us a note! We are more than happy to update our comparison tables and conclusions.
Tungsten Clustering for Continuous MySQL Operations
The Tungsten Clustering product family is the only complete, fully-integrated (proxy, cluster manager, and replication in one tightly integrated solution), fully-tested MySQL HA, DR and geo-clustering solution running on-premises and in the cloud combined with industry-best, and fastest, 24/7 support for business-critical MySQL, MariaDB, & Percona Server applications.
Tungsten Clustering includes three distinct topologies - please reach out to learn more about the differences and find out which suits your needs best:
Tungsten Cluster — for standalone MySQL HA clusters
Tungsten Cluster+ active/passive — for managed, cross-site MySQL HA/DR and Geo-Scale
Tungsten Cluster+ active/active — for MySQL Geo-Scale with local updates
Who Uses Tungsten Cluster?
Typical Tungsten Cluster customers are SaaS, e-commerce, financial services, gaming and telco companies using MySQL, MariaDB, or Percona Server for MySQL and Continuent to cost-effectively safeguard business-critical applications and billions of dollars in annual revenue.
Companies such as Adobe, CARFAX, Garmin, Modernizing Medicine, Net-a-Porter, Riot Games, and Vonage, and many more trust our customer support and software in order to achieve continuous operations for their business-critical MySQL applications with zero downtime.
Please read about Tungsten Clustering here, and why our customers choose us here. Follow us on Linkedin and Twitter, and reach out to start a conversation!